Open House - The Real Estate & Mortgage Show: March 27th, 2023
Date Posted: March 27, 2023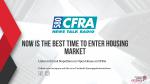 House prices have dropped tremendously over the past 6 months making it a great time to enter the housing market. After 8 consecutive rate hikes from the Bank of Canada, their previous announcement concluded in a rate hold. This indicates that housing prices might not drop further than where they currently are sitting.
House prices began dropping as the demand decreased and inventory increased. Now that rates will prospectively begin to come down, the inventory will slowly become less which in turn drives up the demand and the prices. If you're consider getting into the market, now is a great time.
To listen to the full episode, click here.
Contact your Mortgage Broker today for trusted advice.