Foreign Buyer Ban Update
Date Posted: March 29, 2023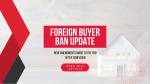 The Canadian government has announced new amendments to the regulations surrounding the country's foreign homebuyer ban.
The ban came into effect on January 1st as an attempt to improve affordability for Canadians looking to buy a home. Since January, the act and its regulations have caused confusion and unintended consequences for Canada's real estate industry, including some developers shelving plans to build new housing.
The changes, announced Monday, expand exceptions to allow non-Canadians to purchase residential properties under certain circumstances and seemingly address many of the concerns raised over the last few months.
Amendments to regulations
Exception for development purposes
There is now an exception for development purposes. This exception allows non-Canadians to purchase residential property for the purpose of development.
The prohibition no longer applies to vacant land
The prohibition previously applied to all lands zoned for residential and mixed-use, but it now only applies to developed residential properties.
More work permit holders eligible to purchase a home
Another amendment will enable more work permit holders to purchase a home to live in while working in Canada. Work permit holders are eligible if they have 183 days or more of validity remaining on their work permit or work authorization at the time of purchase and they have not purchased more than one residential property.
Increase in the corporation foreign control threshold
Lastly, the control threshold has increased from three per cent to 10 per cent for privately held corporations or privately held entities formed under the laws of Canada or a province and controlled by a non-Canadian.